Obi-Wan Finale - The Loop
Play Sound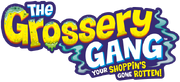 The Grossery Gang is a collectable toy franchise by Australian company Moose Toys created in 2016. It is a spin-off of their discontinued Trash Pack line, while also being a comparable parody of their current Shopkins line.
Its slogan is "Your Shoppin's Gone Rotten!".
Description
Original
Welcome to Cheap Town
The Grossery Gang can be found in Cheap Town, a once bustling urban metropolis BUT ever since the mega motorway to Sales City was built there hasn't been a single customer in this now run down town! Don't feel bad though, SOMETHING has been left behind…take a peek inside the Yucky Mart and you might just catch The Grossery Gang hanging out in the vile aisles! This crusty crew of putrid products have hit their expiration dates and festered to life to create their own brand of filthy fun! There's over 150 to find at the Yucky Mart including Putrid Pizza, Dodgey Donut, Shoccoli, Rotten Egg and more! The fun times (and fragrant fumes) never stop when the Grossery Gang's involved! So come on down to the Yucky Mart to hang with the grossest of gangs – and see if you can collect them all!
Series 3 Update
It's the brand new Series from The Grossery Gang and things are about to get messy with the introduction of Putrid Power!
In this Putrid Power Series, an evil force known as the Clean Team is cleaning up the streets of Cheap Town, vowing to fight grime and wipe out The Grossery Gang for good! How will the Gang defeat such an enemy, why, with epic Putrid Power of course! Utilising the stench of old bin juice, our heroes must band together and transform into the ultimate disgusting dudes to fight off the power of clean! It's the ultimate new vs goo, crime vs grime, clean vs - well you get the deal!
It's The Grossery Gang Putrid Power, the biggest, boldest, bestest and grossest series yet!
Background
The franchise was originally previewed in February of 2016 at the various Toy Fairs, where the Trash Pack connection was heavily highlighted.
Eventually, in May 2016, various social media websites opened up for the product, and are still being updated.
The series was set for a July 2016 release, but was pushed earlier to mid-June 2016, where they were made exclusive to Target and Toys R Us stores, with Walmart stores following.
A webseries by Melbourne-based animation company Dirty Puppet was also created for the franchise.
In February 2017, previews for the future of the franchise were shown at Toy Fairs, introducing vehicles and action figures to the line.
Series
Trivia
Unlike The Trash Pack, each character has a minimum of two color variants (like Shopkins) and a maximum of up to four variants (including exclusive finishes), as opposed to a minimum of three.
Footage from The Trash Pack and Shopkins were used to help promote the franchise when it first started, confirming that all three series share a universe. This would later be extended into a stop motion crossover short.
Old concepts for the series, such as on prototype bags and the prototype cartoon, gave the Grosseries irises in their eyes. The finalized version lacks them, giving them traditional Trash Pack eyes.
In April 2017, the franchise was parodied by parody sticker franchise Wacky Packages as part of its 50th anniversary collection. It appears to be based on the original concepts of the characters, possibly hinting the sticker was in production for a while before its release. There are multiple variations of this card, with different colored backgrounds.
In mid 2017, The Grossery Gang teamed up with Just Kidding Magazine for a school project, using Grossery Gang media as a project study in storytelling.
Gallery
Pictures
Videos
External Links