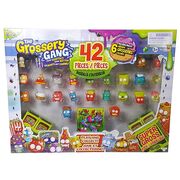 The Super Gross Pack is a Canadian-exclusive pack for The Grossery Gang. It contains 42 Series 1 Grosseries, with six of them hidden, four milk crates, and cards for The Trash Pack Trading Card Game.
Description
Things just grosser for your favourite craziest, zaniest new collectibles with attitude! Now you can make the most of all things gross, with The Grossery Gang Super Gross Pack. Play and collect with over 42 pieces, including 6 hidden Grosseries! There's even instructions for the Trash Grab game to keep things rotten.
Includes 42 Grosseries
Includes 6 Hidden Grosseries
Play and Collect
Super Gross
Trivia
Due to the closings of Toys R Us stores in the United States, this pack is a Canadian-exclusive.
Despite being a Series 5 release, the series includes only Series 1 Grosseries.
Gallery
Community content is available under
CC-BY-SA
unless otherwise noted.