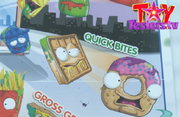 The Half Baked Bakery is one of the categories of Grosseries in The Grossery Gang. These Grosseries are based on baked foods such as donuts and waffles, basically to-go snacks.
Grosseries
Trivia
They have the highest amount of characters in their team out of the non-special finish teams for Series 1, with nine characters in total.
Their team name was originally called the "Quick Bites", as seen in a Toy Fair video.